to come to Knitting Passion and make a comment to win one of these: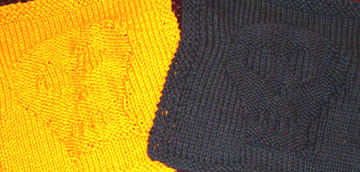 the one on the left is actually orange – not gold. But my camera decided it looked better this way.
Leave a comment on the knitting blog and earn a chance to win one of the skully dishcloths. Post an entry on your own blog about the contest and then leave a comment at the knitting blog and earn another entry for one of the dishcloths.
You might even win BOTH!
Pay me a visit and comment – you know you wanna! (the comments must be at Knitting Passion – not here – thanks)