I make my own fun – yup, I do. And, apparently, I am not the ONLY one.
Spotted outside my (pretty possessive, aren't I?) urologist's office: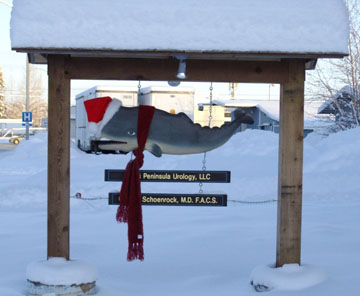 Yes, it is wearing a scarf – baby, it's COLD out there!
And, yes, it is wearing a santa hat – the snow is probably too deep for them to go out and change it to a simple winter hat – and it hasn't been quite a month since Christmas anyway.
😉
It would appear that I am not the only one who likes to have fun in Alaska, huh?