The Eyes have it
So, I'm in my last couple of weeks as the interim ed. In some senses, it's seemed very short – could be that extra stint in the hospital has something to do with that. That, and the recuperation time after the surgery that required some half days.

But, in other ways it has seemed like a very long three months. Could be the quirks and foibles of managing a diverse group of staff has something to do with that.
I am blessed because they are a great staff. They work hard for little pay (in comparison to big business) and they do it willingly because their hearts are with the clients. It's a tough job that they do. I tell them often (but probably not nearly enough) that I am thankful for what they do.
Today the bookkeeper teased me when I complained about my left eye. It is probably just a bit of hay fever – but it has been itching like crazy for the past few weeks. My left eyebrow also had a bit of the twitchies a couple of weeks ago. We were standing together before leaving the building tonight when I mentioned these things and the bookkeeper just looked at me, grinned, and then told the rest . . . "there is something about people in 'that office'. They all have SOMEthing go wrong with their eyes – they twitch – they . . . " and she was off.
Is there something to it? Nah, probably not. But it gave us all a good laugh as we closed out what had been a somewhat tense day – and that's not a bad thing, is it?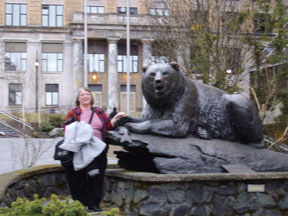 So, for your viewing pleasure . . . I give you a shot of the moosie in Juneau . . . . that is the Capitol building behind me and the bear. Welcome to Juneau, everyone.
Posted: March 13th, 2008 under Alaska, I wanna go home!.
Comments: 3
Comments