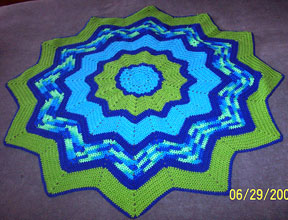 Ladybug's friend just had her first baby – and, of course, that baby needed a new blankie! I decided colorful was the way to go. Apparently said baby approved – she "showered" it with her approval (yup, she wet all over it.) Good thing I believe in using washable yarn for new babies, huh?
This is crocheted (here's the pattern at Mother Fury's request – anything for you, Mom!) – I've also been doing quite a bit of knitting – working on some dish cloths now for a swap on one of the groups over on Ravelry. I'll show pictures of the dishcloths before I send them off to my swap partners. Those haven't been chosen yet.
451 Press is having some overload issues – so, the knitting blog hasn't been updated in over a week. They are working on that – installing new equipment, etc. Whoot! Thanks, 451!
And, the grandkiddos just keep on getting bigger – took the oldest out for dinner Sunday evening. He missed his "shopping day" the previous week because he was (gaso!) working! So, we took the youngest of Ladybug's kiddos for HIS day – and took the Boy this week.
Mortified him in the checkout line – where we were buying him some ice cream and cookies. He told his Mama all about it – made her laugh at him and threaten to come along the next time to chaperone. He said that wasn't necessary – because he knew she would just gang up on him WITH us. lol. Yup, I love it.
Busy week ahead at work – the last day of the year was today – fiscal year, of course. So that means I have to not only prepare the monthly report, but the fiscal year report as well. Monthly deadline is the 5th. Annual deadline is the 15th. I hope the rest of my numbers come in tomorrow. 😉
soooooo you all be good now, you hear?