Any among us who have lived in Alaska for awhile . . . the Kenai Peninsula in particular . . . may rememember a Carr's grocery radio/TV ad from the 80′s . . . woman who sounds to be older – and perhaps a bit tipsy – says "Shhhhhhhhhooooooooooopppppppping!" in reference to Carr's. Never failed to crack us up . . . and the girls and I will occasionally say it just to get a giggle.
Yeah . . . that's what I did yesterday. I knew Jacques Penne' was having a sale and I needed new blouses for work, so it was off to A-town for a bit of Shoooooooooooooppppppppiiiiiinnnnnnnggggg.
Gracious – I guess I've become a real small town gal in my dotage. When I was done with JCP, I was done with A-town. Guess I'm not in my element unless I have someone along with me to buy for. I mean, how much fun is it to by for oneself?
Okay – that part was okay – after the trying on of said blouses, etc. I managed to save over $100 at JCP – and spent less than $80 to save that $100. It's always a good day when you save more than you spend.
And, yep . . . stopped and took pictures along the way: click on the thumbnails for larger pics if you like.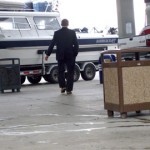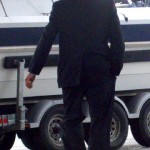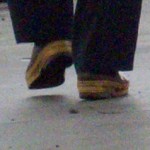 Mandatory stop in Girdwood for a rest-break . . . when loading up to leave I see a very nicely dressed young man – dark suit, hair neatly combed, etc. strolling through the parking lot. What I zeroed in on, however, required grabbing the camera for a close-up:
yeah . . . welcome to Alaska, friends, where you can wear your best go-to-meetin' dark suit accompanied by FISHING BOOTS. Extra Tuf's if I'm not mistaken. LOVE!
After shopping I grabbed a burger for nostalgia's sake from Wee-Bee's on O'Malley. Again, if you have lived her for a bit you probably remember Bookey's in Kenai, Soldotna and Anchorage. WeeBee's is owned by the same man – Jim Bookey senior – and the food is just the same.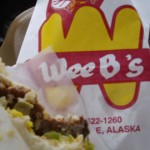 I grabbed it to go (along with a chocolate milk shake!) and drove along Turnagain Arm towards home – pulled over to eat it while watching the tide begin to turn. Ahhhhhhh.
Found a bit of a road block as I drove further on . . . this guy was keeping cameras clicking and people ooooohing and ahhhhing.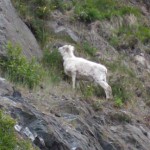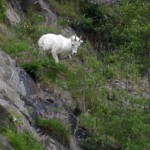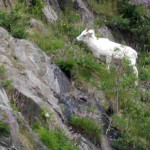 Last shot to share . . . taken over my shoulder from the car window as I drove through Cooper Landing . . . it's bring your own rock time as the red salmon are making their way upriver in the Kenai.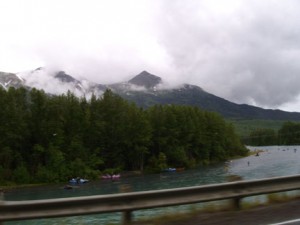 In other news . . . this morning at breakfast we noticed three of Kenai's finest outside the hotel/restaurant. Figured we would see them at breakfast, but no. Seems they were on stakeout for one of the C'dale dancers who performed at a local bar last night. Waitress said they'd been out there since before she came to work at 6. They were still there when we left shortly before 8. We guess they were waiting for a warrant – which they must have gotten as they came to the desk for the key to the room. We left while the leaving was good. (If the news is juicy enough it'll be in the local rag sometime this week.)


As I say . . . I live in Alaska – I make my own fun.

Posted: June 27th, 2010 under Moose Nuggets.
Comments: 3