After church services yesterday I invited hubbymoose to take a ride with me. Might be one of the last nice days of summer and I didn't want to waste it. Grocery shopping was put off until the return trip.
We drove up into Cooper Landing – stopping along the way (of course) to take some pics.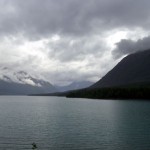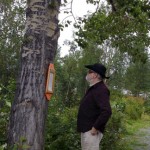 I try to shoot Kenai Lake from this pullout spot each time I drive through. It is a never changing/ever changing view. Second picture is of hubbymoose checking out the sign placed by the landowner – it tells us all to leave the place as we found it – to pick up after ourselves. Good advice.
A bit further up the road we pulled into the Tern Lake parking area. It's been years since I've gone back there – used to have to stop for the girls when they were little – if you know what I mean.
We drove across a one lane bridge and parked in the lot – got out and stretched.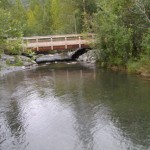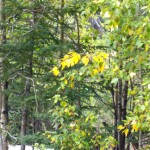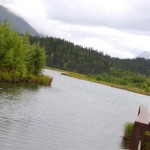 Leaves are changing quickly. I will be heading back up the road to Anchorage in a couple of weeks with oldest daughter – I imagine the leaves will be falling by then.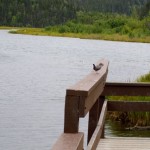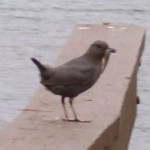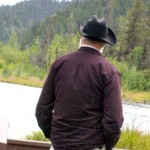 We were joined by a black colored bird (I have no clue what it is) with something in its mouth. It paused (posed?) for a minute and I grabbed a shot. Sorta looks like some sort of fry – maybe trout? Hubby (seen in third picture here) says it is too small for a salmon fry at this late date.
We were getting a bit hungry so I asked hubby his preference – right turn to Seward? Left turn to Summit Lake? Or head back toward home and eat somewhere along the road?
We chose left – it's been awhile since we've stopped at Summit Lake Lodge to chow. Met a nice couple from Florida and chatted for a few minutes after lunch. Hubby was, of course, being the natural story-telling guide, handing out his phone number (just in case you get lost) and the like. We usually never hear from such folks again. But it would be fun if they did call.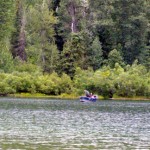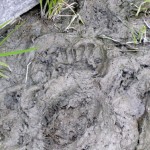 Summit Lake – boat with fishermen. Second pic? Is it? Could it be? Nah – not a bear. Someone apparently was having fun playing in the mud. I wasn't fooled – doubt many Alaskans would be.
On the way home . . .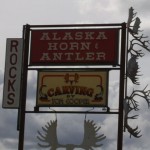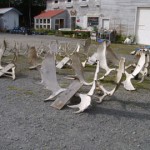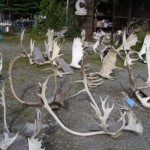 I always say I am going to stop to get pictures of Tom Cooper's moose and caribou racks (antlers/horns) and always miss it. This time we stopped. Tom just waved and went about his work while I snapped away.
Love this last one.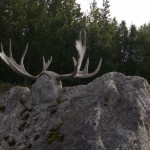 Have a great Monday, everyone.
Posted: August 23rd, 2010 under Moose Nuggets.
Comments: 2