Up early to meet hubbymoose for breakfast – got him to bed (he worked all night) and then went to get my hair cut. Lovely visit with Ms. R who does my hair and then back home to quietly ponder what to do – what to do.
Text from lessa . . . she and daughter were headed to the Funky Monkey for NANO – did I want to come? My mission (should I decide to accept) would be to distract said daughter so lessa could get ahead of her in their NANO competion. Coffee would be waiting for me.
How could I say no to such a challenge? You're right – I couldn't.
Loaded up my computer – no, not doing NANO, but would be playing whilst they wrote. As I was loading up I got another text – the peeps at Funky Monkey want to know if YOU are wearing your hat, too. Sigh – trudge back into the house (trying not to wake up hubbymoose) to get hat and head off to da monkey.
There was some jostling of seats as we were all facing a very bright sun – but we got that settled – AFTER spilling the aforementioned coffee. Sigh – spill cleaned up and this is what people see when they enter the coffee house this morning: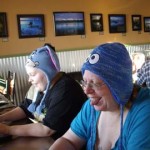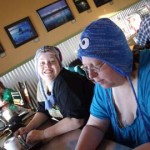 Cute, huh? And . . . how'm I doing so far in distracting? Not too badly, friends – not too badly.
Speaking of distracting – this pic was taken during our first snow last week – young woman lives next door to us – only in Alaska, friends, only in Alaska.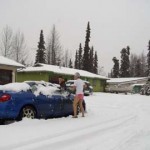 you can click on the pictures for larger versions.
So . . . how is YOUR Saturday going?
Posted: November 13th, 2010 under Moose Nuggets.
Comments: 4