Even though it's a holiday, I went to work for a bit this afternoon. Something special was to happen and I was to be there for that.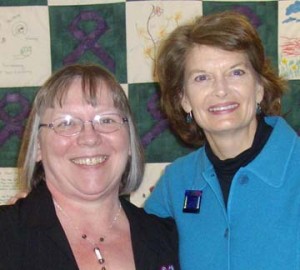 U.S. Senator Lisa Murkowski visited my workplace – a domestic violence shelter – to meet with staff and take a tour of our building. It was her first visit to our agency and I was glad to be there for the occasion.
She and her aide spent quite awhile with us asking great questions about the dv issue in our area, the homeless issue here, and how we were working to fight the problem. She also asked about our funding sources. In addition to our director and myself, our shelter manager and a board member were also present.
I asked permission to take pictures and Sen. Murkowski graciously agreed. She also gave me permission to post it here and on facebook. "We're friends, right?" she said and gave me a big hug.
Now, how cool is that?
Posted: February 21st, 2011 under Moose Nuggets.
Comments: none