Mail Surprises
Today's A-Z Challenge letter is M.
Love surprises – this has been an especially nice day.
Mail call: received my swap cloth from my April Ravelry partner – gorgeous work – thank you!!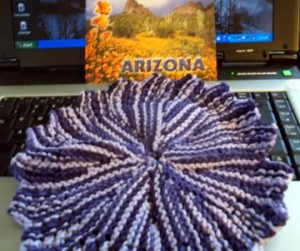 Mail call 2: also received 2 skeins of Cascade Sierra won earlier in the week. May post pics later.
Moose Call:
And, thanks to a little Etsy/facebook contest I received a cute moose key ring by Cottage Monsters.

Yay!
Posted: April 15th, 2011 under Moose Nuggets.
Comments: none