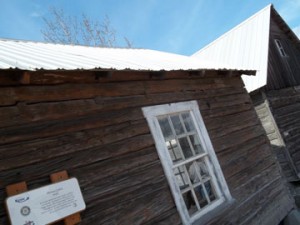 Time for the weekly Artist's Way check-in. It's been an interesting week with stress, a work evaluation, writing, and even some fun thrown in. As I read through this week's chapter and completed my morning pages – and then went about my normal work week I found even more comparisons and parallels.
Isn't life a funny critter?
So – for the check-in.
Morning Pages: yup – all 7 days. wtg moosie!
Artist's Date: the picture above was taken during my date – my own time to do something just for me. I took part in a volunteer orientation and tour of the cabins in Old Towne Kenai. I'll be helping lead tourists through the cabins this summer.
The only days I have available are Saturdays, and only one was left in June after everyone else got to the calendar before me. (durn my polite "after you's")
🙂
But I imagine I will get to help out a couple more times in July through Labor Day when they close for the season.
This is only the second year the cabins have been in their present spot. It was quite an undertaking for the Kenai Historical Society to ready them to move – then move and get settled into their new homes. More on that later as I learn more of the history of the cabins themselves.
No special discoveries this week. I was able to get some really good sleep a couple of nights – even dreamed and remembered the dreams one of those nights. Some self care was in play.
Butterflies again came into play this week – received a card one day which had a butterfly/woman drawing on the front. It is now taped into my journal for that day.
Then Saturday at our fave coffee shop daughter and I were busily writing away when a song came on the radio. She started singing the words and I was struck again – "we all have wings" were the words. Apparently it is a song by INXS called Never Tear Us Apart.
Synchronicity – gotta love it. On to week 4.