It's my image – the one I see in the mirror – the one in the photographs. I recognize it from the hint of a smile followed by hearty laughter. I know it from the twinkle of eyes and gaps in teeth. I know it from snarky comments and knowing winks.
I see me multiplied in the camera's lens as each daughter and grandchild can attest: all apple cheeks and blue-eyed blond images of me – my descendents – my blessings.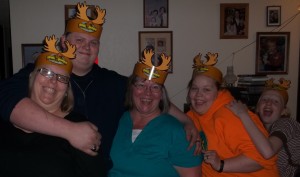 ————————————————————————————————————
Trifecta's challenge this week is IMAGE. I think every parent's dream is that their children mimic them (in only the best ways, of course). The above picture is of my oldest daughter, my mini-me, and her three children, her mini-mes.
Posted: January 30th, 2012 under Moose Nuggets.
Comments: 14