Dustin whistled while he worked
Though others thought him a jerk
He sang in and out of tune
Throughout the month of June
He whiled away the hours
What's yours is mine is ours
We'll party hearty till dawn
I'll even mow the lawn
If I only had a brain
The Trust it was a-formin'
In the early hours of morning
They gathered well past noon
The answer will come soon
Dustin fiddled with the wires
With nuts and bolts and pliers
Still he whistled his little tune
As July slowly overtook June
When I finally have a brain
Marietta brought him coffee
The kind flavored of toffee
She sweetened it just so
Knowing all that she did know
For Dustin was a whistler
He wasn't much of a kiss-tler
But she loved him, 'deed she did sir
And waited for him to notice her
When he finished with the brain
Oh, look my darling Marietta
It took so long, I'd better
Wash off my dusty fingers
And bring on the lusty singers
For yes it is so true now
I can tell everyone just how
I've placed nut and bolt and wiring
They'll look to me for hiring
I've invented the perfect Brain
Epilogue: Dustin worked in his attic for many a year while Marietta mourned her (might as well be dead) newlywed husband. She played her favorite movie over and over and went slightly mad as Dustin picked up the tune and whistled incessantly . . . if I only had a brain.
Dustin, as is the wont of many a slightly mad inventor, hardly noticed the days passing, or the love of his life passing in and out of the room. He pined not for what he knew not. He knew not Marietta pined for him.
But he finally had a brain worth selling.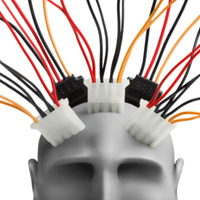 ——————————————————————————————————-
Ahhh – those brainy edtors at Trifecta have invited us to sharpen our wits and our number two pencils to come up with a piece 33-333 words using the word BRAIN in the third definition:
3: something that performs the functions of a brain; especially : an automatic device (as a computer) for control or computation
And, all I could think of was the lines from The Wizard of Oz. Hope you enjoy.
Posted: April 5th, 2012 under trifecta, words.
Comments: 7