Goodbye
"Let's face it. It's all about me."
Richard slammed the door. An ending – a finality of emotion wrung from my heart.
He was gone. He was gone and I was left here alone.
I found the note – placed precisely in the center of our hospital cornered bed.
Amanda –
No more lies. I want to be here. I can't be here. I feel life passing me by and I cannot bear it.
If I stay I will lose more of me than I can stand to lose. I need to be free.
Let's face it. It's all about me.
Goodbye
——————————————————————————————————-
A darker challenge from Lance and Frelle, with Lacuna Coil's Within Me. And, again, it will come as no surprise to you to know I'd never heard this song (I know, what DOES the Moose do with her days???) I am enjoying these challenges because they encourage me to widen my musicality somewhat.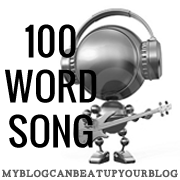 Posted: May 24th, 2012 under 100 word song, 100 Words, Moose Nuggets.
Comments: 3
Comments