I would die for you
A thin girl with dreads sat in the corner of the coffee shop strumming a guitar. People nearby drinking coffee, ignore the empty hat on the floor.
The words she sang dug into their souls, try as they might to keep them out.
I would die – I would kill for you
Disturbing images – cast aside in today's "I can't be bothered" society.
A woman walks forward, touches the girl's shoulder, offers her a sandwich and a ten dollar bill.
I give these to you because I believe in you.
The girl accepted the gifts. Her smile lit the room.
——————————————————————————————————–
The above is written for Lance and LeeRoy's 100 wordsong challenge: #1 Crush from Garbage.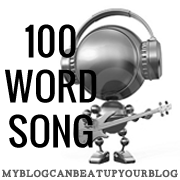 Posted: July 25th, 2012 under 100 word song, 100 Words, Hear Me, I wanna go home!, words.
Comments: 7
Comments