Just a Swingin'
Married 62 years now, Mabel and me. We was just younguns when we got hitched. I laid eyes on her and knew, she and me, we'd live it out together. God, I love that woman.
Henry? He was a fine specimen of a man when I met him. From the first I knew he would love me and care for me until one of us was laid underground.
They held hands.
Grandpa and Grandma Hills are sure getting old, Mama. Look at them just swinging away on the porch. I want to love just like them when I get old.
——————————————————————-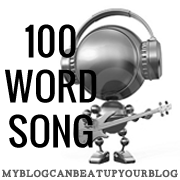 LeeRoy and friends have chosen Swing Life Away from Rise Against as this week's 100 Word Song challenge. I'm sure the songster had something else in mind, but this is what came out of mine.



Go and try you hand at it.
Posted: August 8th, 2012 under 100 word song, 100 Words, Moose Nuggets, words.
Comments: 7
Comments