Shopping List
Grapes
Peaches
Crab
Kendra checked off each item as she placed them into her cart.
Nuts
Bon-bons
Wine
Check – check – and check.
"That's quite a list."
Kendra jumped at the sound of her friend's voice. "Stacey! I didn't see you standing there."
"Throwing a party, Ken?"
"Yeah, of sorts, Stacey. Mark comes home from work tonight. He's been on the platform for six weeks. God! I get so lonely when he's gone. He treats me like a queen when he's home. These are some of our special foods."
"Geez, you're blushing, Ken. It makes you look sweet. Have fun tonight."
—————————————————————————————————–
Lance and LeeRoy have chosen Peel Me a Grape as the song for this week. A number of Alaska's oil workers are gone for weeks at a time – away from their families for 2 – 3 – even 6 weeks, then coming home for only a week or two. Some families survive very well. Others not so much. People do what they can do to survive.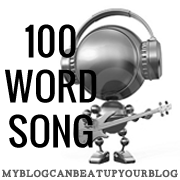 Posted: August 18th, 2012 under 100 word song, 100 Words, Moose Nuggets, words.
Comments: 6
Comments