Let it what?

Sign said

I said what are you thinking?
Silly high school kids!

——————————————
Why, yes, I DO live in a state of denial. Local high school has this on their sign and I am not quite ready for the "s" word to start happening. I somehow missed summer and already the chill (downright cold) is in the air. Sigh. For
Haiku Friday with Lou.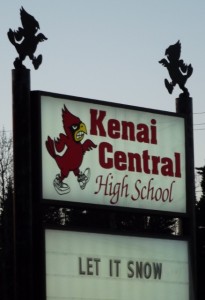 btw – I pre-wrote this post for Lou's Friday Haiku . . . then hubbymoose and I went out for the evening . . . and guess what it did??? Yes, indeedy. Of course, it being October and all, it has since melted and I have slid happily back into my favorite state. I may have to come back and edit this again . . . we shall see. Sigh.
Posted: October 19th, 2012 under Alaska, haiku, Moose Nuggets, Moosin Around, poetry, talkin' to mahself, words.
Comments: 2
Comments