Preparations
Bonnie patted her ruby lips with a tissue. It wouldn't do to leave any stains behind. She tucked blonde curls behind her ears and set her hat at a jaunty angle. Her last act before walking out the door to meet her beaux was to tuck a derringer into her stockings.
He sat waiting, engine running. To watch her sway toward him was to kindle more than love. What they had together was blood lust pure and simple. Clyde jumped out of his seat, ground out his butt and swept open the door.
"Been waiting for you, doll."
She winked.
——————————————————————————————–
It's been a few weeks since I've written for the 100 Word Challenge. This week VV has chosen the word KINDLE. A young couple I know recently posted a picture of them on fb. It reminded me of Bonnie and Clyde (whose picture is shown below), and apparently stuck in my mind.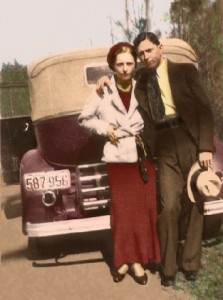 Posted: October 30th, 2012 under 100 Words, Velvet Verbosity.
Comments: 3
Comments