Part of the fun of traveling is getting the "local feel" of a place. Denton offered that to me in spades via my travel guide, Shelly who is an awesome guide and has a wealth of knowledge about her town.
It all starts with coffee, right? And a tour around the square, which is quite active, no matteer the time of day.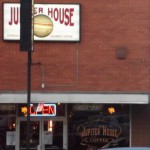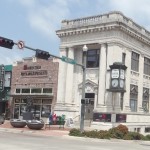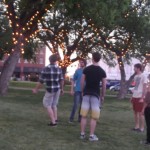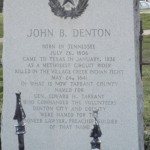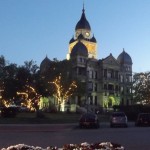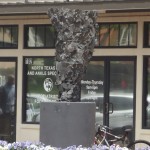 Ms. Shelly leads a ghost tour around the square – that is, she tells stories of those who may be walking still among us. It's a
90 minute, very fun an informative tour
– do take it if you are ever in the area. Can't be Dentoning without doing it.
Interestingly, the moose became a part of that ghost tour . . . it all started with a visit to Recycle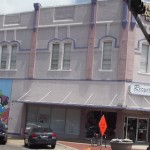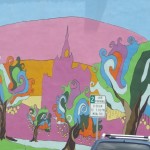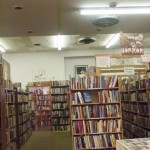 So, you want to hear the story, eh? Well it all started as we wandered through the store looking at books here an books there, stopping to admire leather bound tomes, exclaiming over books older than we. I stopped in front of a set of educational children's books, then turned and stepped about two feet away to look at children's books that I remember – and some I do not . . . suddenly a book from the shelf I had been standing in front of moments before LAUNCHED itself from the shelf an hit my right calf. Now, when something FALLs, it falls straight down . . . this came across the way and hit me. "Shelly . . ." We both laughed nervously, then placed the book back on the shelf.
Sigh – yes, you read that right. We placed it back on the shelf. We did NOT buy it! Argh!!!! And, when we had thought about that and decided to go back to buy that book . . . it was no longer there – the shelf was bare where it had sat.
🙁
Ah, well . . . a book came into play later that night . . .
We decided to attend the first Twilight Tunes event, which, because of the cold temps (!!!!) had been moved indoors to Sweetwater.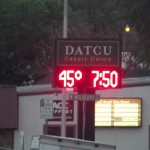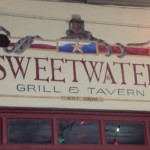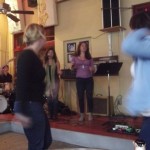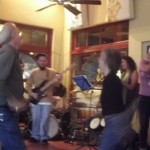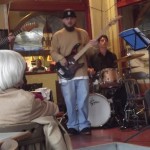 Yes, 45 degrees is perfect for an Alaskan, but Texans seem a bit put off by it. Thus the music was moved indoors. Before I tell you the story of this book, take a closer look at the bass guitarist . . . looks sorta like (what I would call) a "skater dude", doesn't he? Sorta out of place in a "chicha" or "salsa" band? Yes, I thought so, too . . . but he was GOOD! Los Patos Poderosos was rockin' the house. We did a lot of "chair dancing" but others, as you can see, were not so "shy" and got up to dance.
The book story . . . thought you' never ask. See the little old lady sitting there? We asked her to join our table and when she moved over she brought a newspaper, a book and a scarf. She placed them in her chair and sat on them while watching the band. After an hour or so the band took a break. She stood up grabbed the stuff from her chair, put them on top of the table and began wrapping the book furiously in the newspaper, tying it up tightly with her scarf. She patted the result, turned, and walked into the bar.
A young man seated nearby jumped up and came to talk to us. Seems the book in the bundle was his! He proceeded to extract the book, leaving the newspaper an scarf intact. We couln't help it . . . we started laughing sooooo hard and had to leave before she came back. Not sure what happened next.
But, on telling this story to my boss . . . her only comment was . . . that book is following you! Nawww, I said. Are you sure? she asked. Ummmmmm, nope. GULP!
There is at least one more installment of "Dentoning" I want to share with you. It will have to wait . . . and so will you. Be back soon.