Natalie and Michael held hands. Waiting was sometimes the hardest, but they were determined.
How are you doing, Nat?
She shivered and leaned closer to Michael's ear to whisper; better with you here next to me. I don't think I could do this without you.
Awww, Nat, you're stronger than you think. You could, but I have to say, I think it's more fun with you next to me, too.
The carnie walked up, winked at Natalie and patted Michael on the shoulder. You're all secure, folks.
He stepped back. The slingshot went off. Natalie shrieked. Then they both laughed.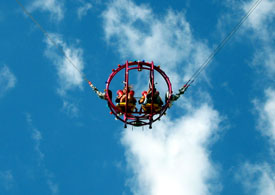 Written for Velvet Verbosity's 100 Word Challenge: Secure