I make gentle fun of my oldest daughter and her friends. I also make fun of my assistant.
You may well ask why I would do that. Just turn on any news network to hear about the latest craze sweeping the world.
I've lived through my fair share of crazes: Beatlemania, troll dolls, etc. I hate to be a fuddy-duddy about it all, but I guess I am. There are bigger things in the world to worry about. I know this craze is helping to take people's minds off those bigger things. Maybe that's a good thing.
Pikachu for President!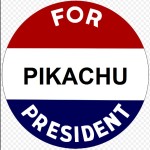 written for Tara's 100 Word Challenge – go thou and do likewise.