Stole this from my daughter . . . she finds the best-est stuffs!

All great thoughts of how to unleash the creative beast that lies within.
Which is what I have been doing with The Artist's Way. And the above is my synchronicity for the week. So, this is week number 6 check in time.
This week? Not so great on the morning pages – 4/7 days completed with another 2 begun and left along and the 7th not even attempted.
Summer in Alaska . . . . wanderlust in my soul. Had a tough week at the office so took a bit of mental health leave. It was interrupted by the process server alluded to in my previous fictional piece for 100 Words. I was not a really happy camper when I went to work Friday. Ended up leaving mid-afternoon to complet my MH time.
Wanderlust struck big time. Picked up hubbymoose and we drove 90 miles (one way) to buy 2 loaves of multi-grain bread from Two Sisters Bakery in Homer. Yeah, we're nuts like that. It was SOOOOO good to get out of town and just drive. We talked a bit – but mostly just loved being on the road.
Took pictures – of course – and walked on the beach – went to a different location and yelled at some men for harrassing the wildlife – eagles – sheesh! Some wanna-be adults!
I am claiming that as my Artist's Date, btw. Even though hubbymoose came along for the ride (and to pay for the bread) he understood my need to walk off down the beach without his company and didn't even complain when he got cold from the wind. Simply rolled up the windows in the car while I went out to take pictures of the eagles.
All I can say is AHHHHHHLASKA!
and on to week #7.
Thanks, VV – hope that thumb is healing.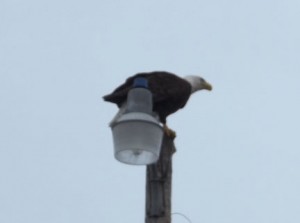 I call this EAGLE – on a STEEK! (any Jeff Dunham fans out there?)