Sweet Mystery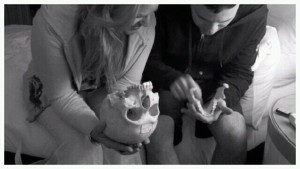 Ah sweet mystery
Of life
To know who you are
To wonder why you are gone
To learn from the . . .
Wait
What's this?
Tape on your forehead?
Why tape?
Aha!
Bullet hole beneath
———————————————————
Ah, sweet Trifextra Editors, I have lots of questions about this picture: for one – why are they looking at it in their bedroom? Yeah, I don't know either. The second thing that jumped out was that square of tape (?) on the forehead of the skull.
Posted: February 25th, 2012 under Moose Nuggets.
Comments: 3
Comments