it is H.O.T! in Kenai. To those of you who live "outside" of Alaska heat is a relative matter. But here? 70 degrees is H.O.T!
Hubbymoose and I went for the first of the summer reindeer hot dogs this afternoon. All the windows were rolled down and we were letting the breeze blow through. Got our dogs and went to the bluff to see what we could see. Gorgeous day – blue skies, wispy clouds – boater helping another boater back to shore – looks like he was having engine trouble. Went back to the Saturday Market to get our dessert – ice cream from the truck – and back to another spot on the bluff where we had our own private air show.
And, you wonder why I love Alaska? There you have it in a nutshell.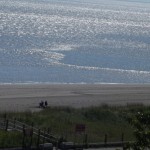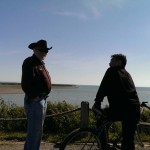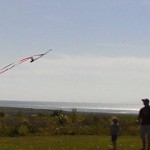 Hubbymoose is a talker – as you can see from two of these pictures. On our way out to our small adventure we stopped to talk with the two men who painted our house – made arrangements for one of our grandsons to mow the yard. The other is of him and Father Thomas at the bluff chatting about fish (of course).