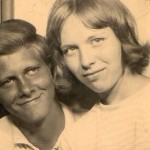 "Lucky the bride the sun shines on", my aunts intoned as I married in the rain.
As our years reached 46 and counting I would smile and tell everyone, "he's a lucky man," knowing full well that I shared that "luck".
"Your husband is lucky to have survived the cardiac arrest, we didn't think he'd make it", shared many surprised doctors.
As I age, even though I have a strong Irish bent, I think luck has far less to do with what happens in my world. I am blessed beyond belief by a gracious and loving God. I am thankful.
Written for the 100 Word Challenge – the word is LUCK.