Paper. Reams and reams of paper. Not your normal sized paper. We are talking 70 inches plus.
This was my life for well over 20 years. Our family owned a small print shop and spent a lot of time there working together. A lot of time.
We printed 500 business cards or thousands of full-color brochures. Our customers ranged from small business to the hospital and college. Everyone needed paper covered by ink, folded just so.
Until copiers came on scene making most printing presses obsolete. Our business closed. We went toward different careers.
The world needs paper. I still smell the ink.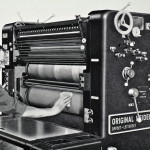 (not ours, but very similar to our Heidelburg press. We printed thousands of brochures using that press – one color at a time – one side at a time. It was an art – run by Art.)
Written for the 100 Word Challenge as hosted by Tara. The word this week is PAPER. Now, you go find some paper and jot down your 100.