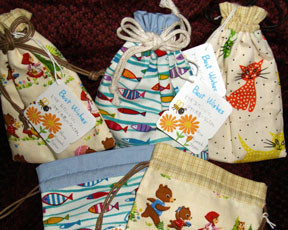 these bags are from Ms. Hiroko A, a friend of Keiko who sent bags previously for the project.
So many times we get caught up in our lives – caught up in the lives of other people – caught up in projects (some good and some not so good – you all know the types) – and we put our hearts and souls into all these things . . . .
. . . . and then they come to an end – or at least the end of our part in them. Such is the Share-A-Square project and the offshoot Bag Project. Yesterday I received the last 5 bags needed (from Japan, no less!) to make up the 70 bags I had promised Shelly I could gather together.
Tomorrow I will box them up and ship them off to Shelly in time for her to take them, along with 140 precious afghans, to the children at Camp Sanguinity. Yes, friends, they are precious – they represent hours of love and work YOU have put into them – and, THAT is precious.
From the bottom of my heart – THANK YOU for helping Shelly reach her goal – thank you for your support in so many ways.
You are each very precious to me!
Here's a very nice article about the entire project.
Sadly I won't be able to join Shelly and Sherry and others to deliver the afghans – I had hoped to be able to go along – but, someday I trust and hope that I will get to meet these two dynamic ladies. You'll all be the first to know when that happens!