Wrinkled skin
Eyes once brilliant blue now faded and time-worn
Liver spotted hands, veined with lines of blue
Aging well?
Or simply aging
Each day brings another strand
Of gray in once blond tresses
Another line
Another wrinkle
Another sag and bag
We're sliding down the hill of
Growing older
Laughing at youth long gone
Wishing for less painful
Reminders
Of misspent youth
Or a well lived life
Soft in the middle
Paunchy where once muscled
Do I regret my years?
How could I?
Without the years there would
Be no you
No daughters
No grandchildren
No life
No love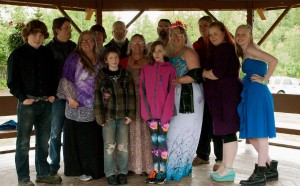 written with LOVE for VV's 100 Word Challenge: FADED.
Posted: July 25th, 2014 under 100 Words.
Comments: 1